Uw wimpers op een natuurlijke wijze gekruld
zonder wimpertang, extensions of mascara!
De behandeling bestaat uit: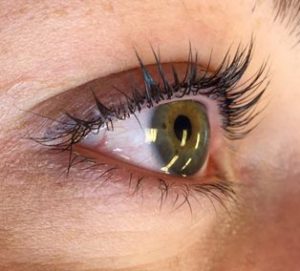 Eén blik zegt meer dan duizend woorden…! hebben van lange en vooral mooie gelifte wimpers staat daarom hoog op het verlanglijstje van veel vrouwen.
De nieuwe LVL Lash Lifting-methode zorgt na slecht 1 behandeling van ca. 45 á 60 minuten, gedurende minimaal 6 á 9 weken voor een opvallend open blik en optisch grotere ogen met lange en mooi gelifte, natuurlijke wimpers.
Dit alles, zonder dat u wimperkrultang of dikke lagen mascara dient te gebruiken!
Hoe werkt LVL Lash Lifting?
De LVL Lash Lifting-methode is een behandeling voor de eigen (natuurlijke) wimpers, waarbij er dus géén gebruikwordt gemaakt van het aanbrengen van valse wimpers of losse wimperextensions.
Bij deze nieuwe behandeling, die inmiddels een ware rage is bij vele bekende nationale én internationale sterren,
worden de natuurlijke wimpers gelift.
De wimpers worden eerst omhoog gezet met behulp van een zachte siliconenpad (een soort schildje gemaakt van siliconen) en worden vervolgens door middel van een laagje 'coating' bij de wimperaanzet met een speciale gelformule gefixeerd. Hierdoor worden de wimpers effectief gelift vanaf de wimperaanzet, hetgeen zorgt voor een mooie open blik met opvallend lange en perfect gespreide natuurlijke wimpers.
Door de wimpers te verven (optioneel), krijgen ze direct een mooie zwarte kleur en wordt uw blik nog intenser.